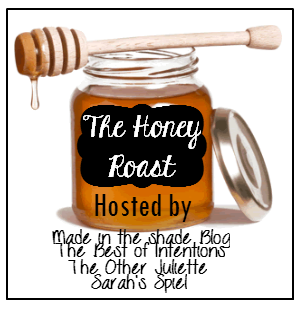 I bet you are wondering what this link up is all about! I was super excited this week when Sarah from Sarah's Spiel contacted me about co-hosting this link up! I have never co-hosted before, and it sounded like so much fun! Sarah and I both agreed that sometimes we find that we "roast" ourselves, and not in a good way. I think this is something we ALL do at times. Sarah had the perfect term for this - vinegar roasting. She decided that we need to "honey" roast more, or think kinder thoughts of ourselves. This is so so true, and I have a bad habit of putting myself down, even if it's just in my own head. So here's to honey roasting, and some positive thoughts for myself!
--->This is probably true for lots of us - I feel so silly taking my OOTD pictures outside - and even sillier asking my husband to help. What I need to say to myself is "But I know my blog friends get it and will love it! I'm going to rock this OOTD post tomorrow!"
--->Sometimes, I feel guilty watching reality TV. My latest obsession is Dance Moms. But I should be thinking that I've had a long week and its so nice to unwind watching a little drama!
---> I try so many crafty things, and occasionally one flops terribly! Instead of thinking how bad it is, I need to remember all the awesome DIY's I'm so good at! Some of the posts on this blog are a great reminder!
---> One thing I know I'm great at, is rocking high heels anytime, anywhere!
---> I also know that I am an awesome puppy-mom, and have a pup who loves his snuggles at bedtime with me!
---> I can shop the heck out of any sale, in any store.
Now it's your turn! What are some negative thoughts that you can turn around to be positive! Feel free to link up with us today!